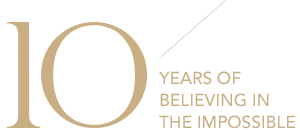 For a decade now, we have continuously challenged the norm. We have taken on the impossible and proved time and again that with the right team and effort, everything is possible; that sometimes all you need is to believe:
2005

Charles Miraj founded Miraj Graphics in Bahrain.

2006

Miraj gets its first big break with the Ministry of Municipalities. A relationship that started with a single annual report soon grew to become one of Miraj's oldest clients.

2007

Miraj wins its first event assignment - the conference for the 'Supreme Council for Women' an initiative of Sheikha Hassa, the first lady of Bahrain.

After two years of hard work, Miraj is entrusted with the launch of the LMRA - a government entity dedicated to labor market regulations.

2008

Miraj receives its first commercial launch event. The Oryx Hills at Al Areen was presented with the theme 'Embrace Serenity' and the dream project resulted in an instant sell-out.

2009

The year was marked with several new partnerships, but what stood out most was the first exhibition concept designed, fabricated and installed by Miraj for the Al Khafji Joint Operations (KJO). KJO went on to become a permanent member of the Miraj Client family. The month also saw Miraj extend its operations to the Kingdom of Saudi Arabia with its first ever event in the country.

2010

Miraj expands to become the only integrated agency to offer design, 3D graphics, web and multimedia, events, exhibitions and gifts and premiums through one business channel, all done in-house.

Miraj is sub-contracted to handle the Ramadan / Eid Program for Saudi Aramco in Dhahran.

2011

Miraj Arabia is born with Miraj opening its first overseas branch in Al Khobar with a 30,000-sq.ft fabrication facility.

Miraj is accorded a Saudi Aramco approved Vendor ID, enabling it to bid for all future projects. The same month saw Miraj launch the 'Teach Me to Protect Me' safety campaign that transformed event management in Saudi Arabia. The event was extended by public demand and created history by being the longest running event. Miraj also organized the environment protection campaign for Saudi Aramco's Drilling and Work over Department.

2012

Miraj is entrusted with Saudi Aramco's 2012 Ramadan Campaign. The Miraj Event Management Team created the branding and resulted in a huge success.

Miraj is awarded the ISO 9001:2008 quality certification. Miraj begins implementation of the Saudi Aramco Values Campaign, an exercise that covered the entire Kingdom.

2013

Miraj wins awards for brilliance in design and fabrication while working with clients in Saudi Arabia, UAE, Qatar and Italy.

Miraj proves its expertise yet again with a high profile VIP Visit Project with the visit of H.R.H. the Prince of the eastern province to KJO. The same month also saw Saudi Aramco's Energy Conservation Week unveiled at Abqaiq and Miraj score a regional first by creating Augmented Reality and Virtual Reality applications.

2014

Miraj Media gets its commercial license to open its third agency at the Dubai International Media Production Zone (IMPZ). With this 30,000 sq. meter facility, Miraj extends its footprint into one of the fastest growing markets in the region.

Miraj's staff strength touches 200. GCC Traffic Safety Week is commemorated in Abqaiq, Kingdom of Saudi Arabia, where Miraj conceived and managed a splendid event for Saudi Aramco.

2015

Miraj ushers in a decade of excellence and adds Signage and Retail & Luxury Fit-outs to its list of services offered, making it one of the few communication powerhouses to excel in all aspects of advertising and marketing.