A time crunching achievement at the SPSP graduation ceremony: team Miraj handled the landscaping, the tent construction and of course the event's graphic needs. All went as scheduled with the help of real-time event planning and impeccable coordination. Cheers to team Miraj and congratulations to all the graduates.
When it comes to events like these there is much to be done and the time certainly seems minimal. The client has a vision in mind and it is up to the team not only to fulfill that vision but take it to the next step. With SPSP it was no different. Saudization was at the tip of their tongue so its promotion was imminent. The requirement a top notch graduation ceremony with an undertone of attracting new students, more high profile students and even petroleum industries. They desired an event which would result in an improvement in their training methods which in turn would churn out a more well rounded graduate. Armed with a vision of highlighting SPSP's achievements and commitment to Saudization, Miraj certainly stepped up to the plate.
The brilliantly constructed spacious interior saw a stage in the center dazzled with LCD screens. The tent also featured a behind the scenes control room for live translations and a catering service for all the guests.
Images form the graduation
HRH Prince Muhammad bin Fahd bin Abdul-Aziz Al Saud at the graduation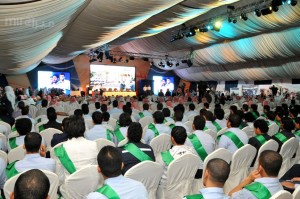 Graduates during the event under the arch of the tent

The graduation took place on the 4th of January in the presence of His Royal Highness Prince Mohammed bin Fahd bin Abdulaziz Al Saud, His Excellency Engr. Ali . Al-Naimi, Minister of Petroleum and Mineral Resources, Mr. Khalid A. Al-Falih, President and CEO of Saudi Aramco and prominent government delegates and dignitaries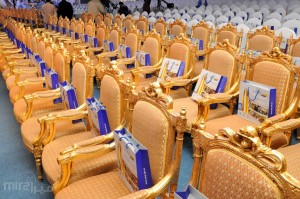 A small memento of the special day.
Graphics which adorned the entire venue and the roads leading up to it depicted the tag line "Together, towards a bright future for Saudi youth"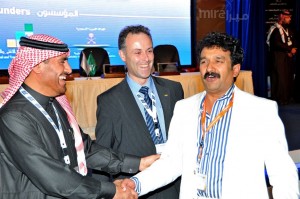 Team Miraj : A job well done!