Upstream Professional Development Center at Saudi Aramco is constantly at the forefront when it comes to professional development. The recent development campaign which was held was a safety campaign. The theme: "Safety Begins With Me".  Saudi Aramco is dedicated to improving the community and constantly holds awareness campaigns which educate the public or the employees on various issues. The recent safety campaign addressed many issues and was not limited to safety at the work place. The campaign talked about safety at home, on the road etc.
The venue was flooded with graphics which portrayed safety at the various locations. The theme of the campaign "Safety Begins with Me", meant that that in order for safety to follow you in your daily life you need to be cautious and safety will follow. Minimize your dependency on others keeping you safe and practice it by yourself. By far the highlight of the event was a 52 inch touch screen display. The display was used for the first time in such an event and caught everyone's eye.
The event was inaugurated by Dr Mohammed Y. Al-Qahtani by placing his hand on the huge touch screen display. Throughout the event employees would place their hand on the screen and have it read their prints in order to continue the interaction. Other attractions at the event included various stalls which housed companies' giving an education to the employees of Saudi Aramco about safety. Saudi Aramco wanted more interaction form the employees so survey forms were available as well as the incentive of great prizes to be won. Everything at this event was taken care of by Miraj.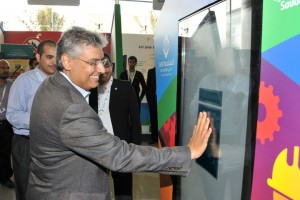 The chief guest Dr Mohammed Y. Al-Qahtani inaugurating the event using the touch screen display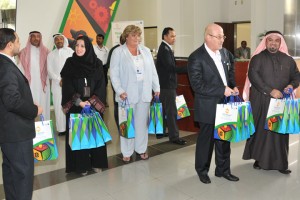 People at the"Safety Begins With Me" event holding the giveaways

Team Miraj after the well planned and executed event