The attention span of a normal (?!) human being is that of 8 seconds. The attention span of a normal goldfish is 9 and that of a perfectly normal hummingbird is only 1/3rd of a second. Think about it! We have a mere 8 seconds to hold somebody's attention.
Do you really think that's sufficient time enough for you to say everything you wanted to say? Likely answer is a no, but then that's just the way it is. Likewise, your brand, your company image, the new product that you've endlessly toiled over, has a mere 8 seconds to hold your customer's attention, and if you've not hit the bull's eye that very second, well, you've lost that opportunity forever.
From Transitory To Eternal
That's the thing about impressions, your brand gets one shot at it and the fate of it is sealed. Similar to promoting your brands, it is important that 'your' customers focus shifts from being merely temporary to one that is sustained, in other words shifting it from 8 seconds to that of permanent. And it's an art to manage that, don't you think?
Might we add at this point, we at Miraj Media have mastered this art beautifully. This probably explains why we're considered to be the key influencers in the exhibition industry in the Middle East.
Initiative Begets Initiative
It's true for all of us, isn't it? Initiative always begets initiative, no matter what you do and where you may be. Well intentioned initiative leads to small successes and those small successes later lead to enormous accomplishments. The kind of accomplishments that win you awards as well as aligning seamlessly with a larger industry.
A Symbiotic Association
The exhibition industry has steadily contributed to the growth of economy in the Middle East region. As per the UFI – the Global Association of the Exhibition Industry, the Exhibition Industry in the Middle East shows promising growth in the next 5 years, much more than most part of the world.
Revolving Cogwheels
The tiny, diminutive cogwheel is regarded as one of the most vital parts of the machine and here, we liken it to the Exhibition Industry. The industry (in The Middle East in particular) has been very active in introducing newer concepts, increasing accessibility by reach and exposure to other markets of the world and proved its mettle as a consistent contributor to the economic growth in this region, serving its role akin to a cogwheel.
The Sum Of All Parts- Miraj Media's Contributions
The concept of exhibitions has evolved over the years – from simple showcasing to aggressive marketing strategies. To be successful at exhibitions, your presence must be appealing to all attendees and deliver all critical ROI touch points. As a leading exhibition design company, Miraj has been at the forefront towards the growth of the exhibition industry in The Middle East.
To that end, we have been the recipient of various awards and felicitations, be it with our futuristic exhibition stand designs, exhibition graphics, promotion, graphics, production and digital services.
Miraj Media Symbolizes Cutting-Edge Exhibition Designs
Every business follows certain underlying cornerstone mantras for success. So while some rely on creativity, others bank on custom-made solutions, while some others believe in focusing on wider audience reaches. However, we believe that to become and 'remain' the leader in the exhibition industry you need to deliver all-round solutions.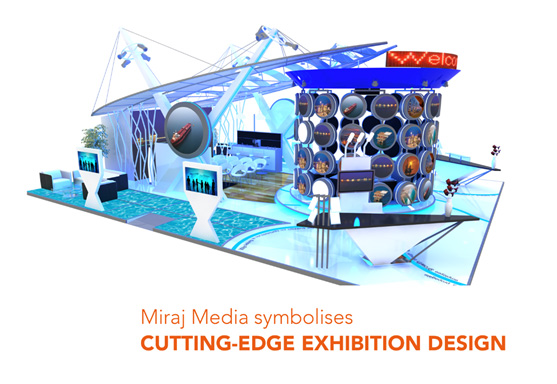 At Miraj, we embody the holistic approach to being a cutting-edge one stop exhibition destination. We don't just stay tuned to the latest trends, we stay a step ahead. Always.
Changing Trends Require Changing Formulas
It comes as no surprise that the future of exhibitions is going to be extremely exciting and will see the introduction of rich multimedia among a host of other live interactive mediums at play, some of which will transmute into larger, never-seen-before experiences.
At Miraj, we've already incorporated a host of rich, new interfaces such as superior exhibition digital technologies besides introducing contemporary one-of-a-kind exhibition stands, thereby cementing Miraj Media's position as a formidable game changer in this vertical.
Read on to familiarize yourself with the latest trends in the industry and the 'Miraj' advantage.
#1 Get Disruptive!
Companies today look for rapid acquisitions. Predictable designs are passé and uninviting –designs that disrupt and engross attendees attention are the next big thing. No, we are not talking about expensive designs rather imaginative, unique designs that are placed at the right places. Even simple light boxes or canvases that are strategically placed can bring in the "wow" factor. Impressive graphics created by the latest technology can attract attendees like bees to honey.
A Touch Of Tech – The Miraj Way
Winning exhibition stands require a blend of innovation, brand application, visitor engagement and interactivity. Conceptualizing diverse themes and transforming them into visual graphics is what we do best. We take time to understand your requirements, competition and exhibition objectives to deliver innovative designs that bring out the best in your brand.
#2 Stop, Think, Engage
Right design with the right messaging is all it takes to impact prospective buyers/customers. Vivid images that express the message 'loud and clear' are capable of creating a lasting impression on the attendee. A supporting message pushes them into the "thought" mode.
Now that you have captured their attention – engage them with games, seating, welcome drinks and food. Weaving in technology for data integration and marketing automation goes a long way in maximizing engagement – pre, during and post the exhibition.
A Splash Of Innovation – The Miraj Way
Creating lasting impressions through unique and innovative stand transforming empty spaces into appealing and memorable advertisements.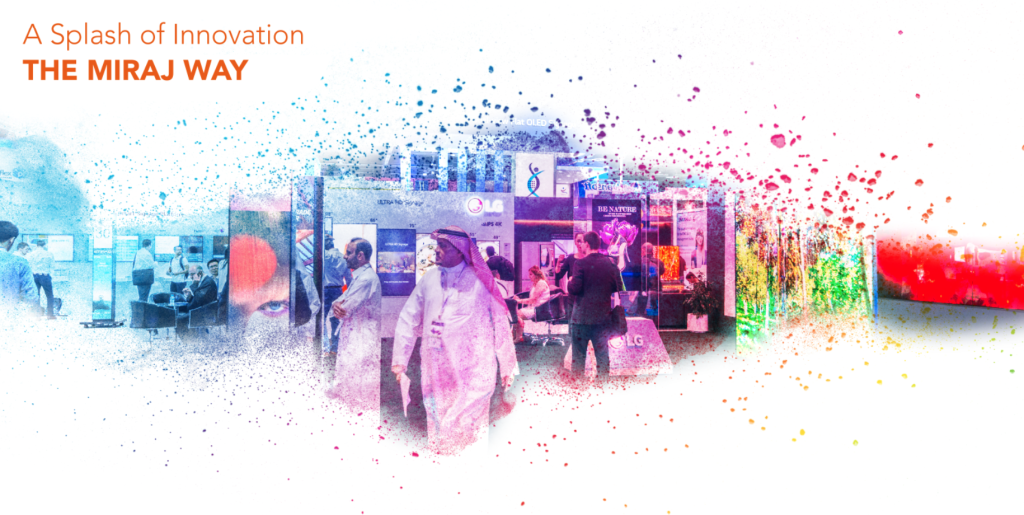 #3 Taking A Cue From Retailers
Exhibitions are nothing less than high-pressure sales environments. Learn the tricks of the trade from those who sell day in day out – the retailers. Simple, yet effective variations in color, texture or even lighting can instantly connect with the audience. Staying in touch with retail design trends helps in establishing a strong exhibition trend.
Some Savoir-Faire – The Miraj Way
Sensing the pulse of the retail market and transforming it into exclusive exhibition concepts is our everyday job. Exhibition concepts are brought to life by our expert team of craftsmen and production specialists.
#4 Technology- The Enabler
Integrating latest technology into exhibitions gives you the winning edge. Virtual reality and augmented reality are helping big brands make the right impact. Bringing in the newest technology into exhibitions is not complicated nor does it cost a fortune. All you need to do is use it judiciously for creating a personalized exhibition experience.
Ahead Of The Times – The Miraj Way
We ensure that your business stays competitive with the latest digital technology. Enhancing your presence through touch screen technology, tablets and other 3D interactive services, offering latest webcasting and streaming services that take your exhibition online and engaging a wider audience are just some of the trade secrets we employ.
#5 Maximum Visibility Through Aggressive Marketing
Marketing and promoting exhibitions is as important as organizing one. Ensuring maximum visibility of the exhibition is vital for its success. Promoting the exhibition through websites or advertisements is a great way of increasing visibility.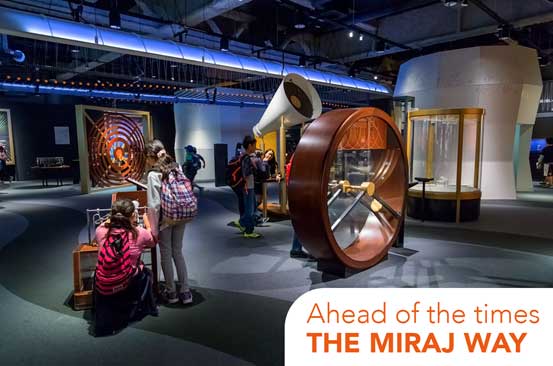 Not Fly, Make It Soar – The Miraj Way
Managing your exhibition page adeptly and ensuring maximum awareness to maximum audiences, leveraging social media for gaining maximum exposure and optimizing your exhibition page for increasing website traffic, in turn increasing registrations are some of the initiatives our digital team undertakes in order to promote your brand.
Explore A Whole New World Of Digital Customer Engagement!
Making your brand stand out and penetrate through competition requires holistic planning and streamlined execution. Creative ideas, technology or marketing strategies alone are not enough for a successful exhibition. Get personalized analytics and designs that are as unique as your brand- the Miraj way!